Photo taken 6-5-10 / 1st freshening 2-year-old
Munchin'Hill Adelina
New photos taken at 13 weeks fresh.
"Acorn" is a beautiful, correct, upstanding doe... we look forward to her daughter, "Sophie" freshening.
Photo taken 6-5-10 / 1st freshening 2-year-old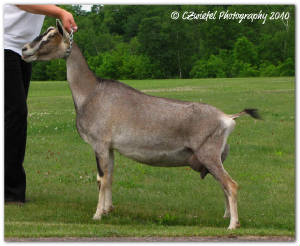 Munchin'Hill Adelina
Munchin'Hill Adelina
A1451691 - Purebred French Alpine
dob: 4-02-08 Light Chamoisee
Dam of XTRAORDINDAIRY HAP ARROGANCE
sire: CHERRY GLEN ABRAHAM RUSHKIN LA 90VEE

S:
Willow
Run Armand Abraham
D:
GCH Willow Run Ahren Rivkah LA 92 EEEE
2006 National Show: 3rd place (5&6 yr old class)
2007 National Show: 4th place (5&6 yr old class)
2007 National Show: 1st place Dam & Daughter
DS: Willow Run Caesar Ahren
DD:
GCH Willow Run Armand Rishona
(4x Nat'l Champ)
dam: MUNCHIN'HILL A LA MODE
S: SG Willow Run Atlas Romulus LA 91 EEE
SS: Willow Run Rico Atlas
SD: SGCH Willow Run Caesar Raisa
D: Munchin'Hill A La Carte LA 90 VEVE
DS: CH Qu'appelle V Etienne LA 90 VEE
DD: CH Munchin'Hill Annie 2008 LA 91(EEEE)
SOLD to NorthSky.
Adelina will live with the others sold to Northsky from here - Char, Louise, Toy, Charlize & Layla.
*WOW* This doe is stunning!
Acorn is in the middle of a huge growth spurt - and is really blossoming into a very special - long, sleek & snappy doe. She not only excels in general apperance but she is very uphill! She is very expressive doe with a beautiful head and neck. She is a very stylish doe; very sharp and angular with prominent withers. She stands on very solid feet & legs. Acorn walks with eye-catching style in her front and width and power between her hocks while staying very uphill in motion.
Acorn's sire, Cherry Glen Abraham Rushkin is a combination of the best French Alpine blood. In 2008 Rushkin scored a 90 VEE at his LA. He was rated excellent in head, shoulder assembly, back and rump and already a "50" in stature. Rushkin's dam, Rivkah, had tremendous excellence in general appearance, size and scale. She was very sharp and high at her withers, had a long, elegant, graceful neck and eye-catching front-end carriage. Her dam, A La Mode was sold to her new home and was off on LA day. Acorn's granddam CH Munchin'Hill A La Carte was appraised in 2008 at a 90 VEVE, and was excellent in head, rear legs, back and rump with a "35" in stature. "Carte's" dam is National Top 5 doe CH Munchin'Hill Annie, who appraised in 2008 at 91 EEEE.
Adelina - looking good at a day old
Acorn's granddam
MUNCHIN'HILL A LA CARTE - 90 VEVE
A La Carte's dam
CH Munchin'Hill Annie - 08 LA 91 EEEE